The Brick and Piper McKenzie Present - April to May 2006, The Brick Theater Williamsburg Brooklyn
See new photos of the entire show
"Adventures of Caveman Robot: The Musical" is the multimedia catharsis based
on Jason Bell and Shoshanna Weinberger's indie comic about the Jungian
warrior-teddybear who embodies our primal insecurities and utopian promise. If the
corporate floorshows of Manhattan make you despair for the future of emotional
excess and people busting out in song for no reason, you'll prefer this close
reading of pop archetype, transcendental lore, ethnographic ritual and live
cartoon-character mall appearances. It's a Wagnerian movie-serial symposium on
ice. - Adam McGrovern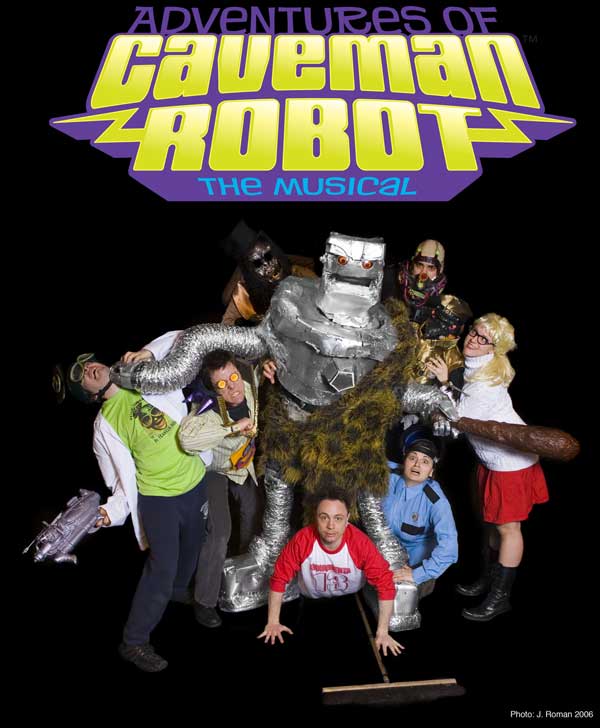 Adventures of Caveman Robot
The Brick
575 Metropolitan Avenue, Williamsburg
L to Lorimer, G to Metropolitan

April 8 – May 13, 2006
Thursday-Saturday at 8pm


www.bricktheater.com
scroll down for more info!

Set in the fictional city of Monumenta, Adventures of Caveman Robot creates a fully realized alternate reality on stage. After a punishing battle with the wildly unpredictable Ape Lincoln (a hulking ex-President from a strange simian dimension), Cavey and his minders - Professor Tuttlwell and his niece Megan - find themselves the focus of a master plot bringing together the cream of Monumenta's villainous talent pool, featuring such characters as Burn-Out (a former hippie turned flame-throwing rebel), Colonel 3headedspacepony (a Nazi SS officer whose brain has been transferred to the body of a penguin) and Cavey's arch-nemesis, Dr. John Zarathustra, D.D.S. As the chaos mounts - through song, dance, and video - only the sad-sack everyman Loser Pete holds the power to save Cavey from a vicious fate.
Written and Directed by Jeff Lewonczyk, based on the Caveman Robot characters, stories, and comics of Jason Robert Bell, Britton Walters, Joe Infurnari, and Shoshanna Weinberger.
Book by Jeff Lewonczyk with Jason Robert Bell
Music by Debby Schwartz , Lyrics by Debby Schwartz and Jeff Lewonczyk
A collaborative project 2 years in the making involving visual artists Jason Robert Bell, Britton Walters, and Shoshanna Weinberger, local club singer/songwriter Debby Schwartz, and theatrical impresario Jeff Lewonczyk, true Gesamkuntswerk!
Caveman Robot is a registarted Trademark of Jason Robert Bell and Shoshanna Weinberger.